The total number of e-bikes sold in Delhi in the first 3 months of the year is more than the total number of e-bikes sold in 2021.
In data released by the Delhi government, the sales of electric motorcycles for the first quarter of 2022 surpassed the total number of sales (for e-bikes) in 2021.
Between January and March this year, 7,632 electric bikes were sold in Delhi – 1,758 in January, 2,384 in February and 3,490 in March – as compared to 7,558 in the whole of 2021.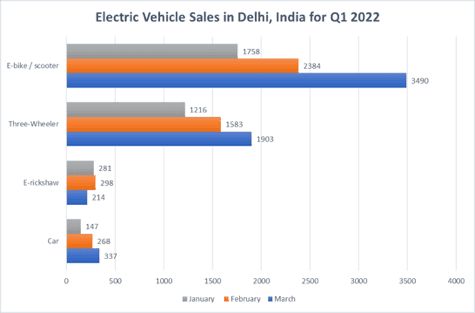 13,879 electric vehicle units were sold in Delhi from January to March in 2022. E-bikes make up 54% of the total EVs sold in the city, wherein in January, there were a total of 3,402 units sold, 4,533 in February and 5,944 in March.
Delhi launched the EV coverage last August 2020, intending to reduce air pollution. The federal government has set a target for 25% of cars bought in Delhi to be EVs to reach this goal.
According to a report, in January last year, 2.9% of 49,010 vehicles sold in the city were EVs, which increased to 3.6% of 44,597 cars sold in February and peaked at 10.6% of 35,869 cars sold in December last year. In March 2022, the percentage increased to 12.6%.
A transport department official says that the ease of charging at home, availability of multiple charging points in public locations, and the lower running cost of EVs compared to traditional vehicles are pushing the sales of electric cars in Delhi. "The environment-friendly aspect of EVs to add to their popularity," said the official.
The AAP government is aggressively promoting a transition to electric vehicles and the installation of charging stations to reduce air pollution.
Currently, Delhi has over 825 charging points, and over 165 battery swapping stations where EV owners can exchange their batteries for fully charged ones.