Despite making its biggest quarterly profit, the EV maker still faces supply chain issues.
On Wednesday, Tesla reported its revenue for the first quarter of 2022. They reported that the company made $3.32 billion worth of net income which is higher than last year's $438 million and the biggest profit since the company was created. Here is Tesla's financial summary for the first quarter of the year:
Tesla's revenue in the first quarter has totaled $18.8 billion, which exceeded investors' expectations. It also managed to increase its operating income to $3.6 billion during the quarter. The company said in its shareholder deck that revenue growth was driven in part by an increase in the number of cars Tesla delivered and an increase in average sales prices. Tesla reported that they had a total of 310,048 vehicle deliveries by the end of the quarter.
And while it made such profits, there are still issues that the company faces. It warned that continuous supply chain issues may hamper future production, as well as the rising costs for raw materials. The company also had to temporarily shut down its factory in Shanghai following China's attempts to contain Coronavirus.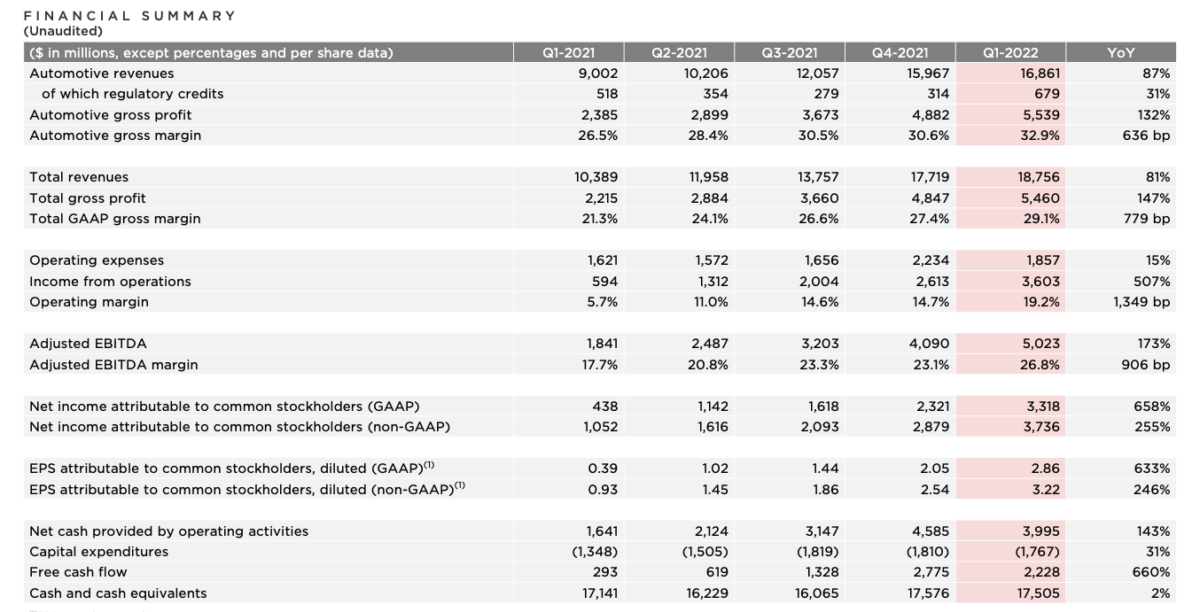 Tesla said in a statement that "Our own factories have been running below capacity for several quarters as supply chain became the main limiting factor, which is likely to continue through the rest of 2022," However, Elon Musk said in a conference call with investors and analysts on Wednesday that his "best guess" was that Tesla would produce 1.5 million cars this year, meeting the company's goal of achieving sales growth of 50 percent a year. He also expressed that the rising prices for lithium were forcing the company to raise its prices and slowing down the pace to make people switch to electric vehicles.
Musk also said in a tweet earlier that 'Tesla might actually have to get into the mining & refining directly at scale unless costs improve.'