During the first quarter of 2022, the market share of electric vehicles in the European Union has increased, according to data from ACEA.
Battery operated vehicles almost doubled their market share in the European Union in the first quarter of 2022, data shows on Thursday. –as reported by Reuters.
There has been an increase in battery electric vehicles' total registration in the first three months of this year. Battery electric vehicles now account for 10% of market shares and surpass plug-in hybrids with an 8.9% share.
Here is the market share for New Passenger Cars by fuel type in the EU:
Hybrid Electric Vehicles account for at least a quarter of the market. However, Diesel and Petrol cars still make up at least half of the market share, with a total of 52.8%.
Meanwhile, here is the comparison from Q1 2021 and Q1 2022 for Alternative Fuel Type vehicles: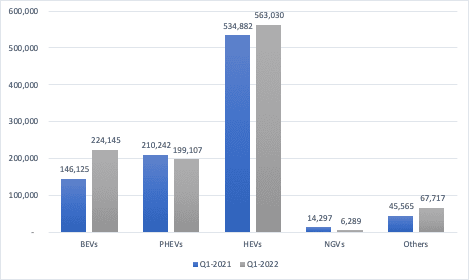 There is a total of 224,145 units of BEVs sold during the first quarter of 2022, showing an almost double increase from last year. For PHEVs, there are 199,107 and 563,030 for Hybrid Electric vehicles.
*All data are based on, https://www.acea.auto/files/20220505_PRPC-fuel_Q1-2022_FINAL.pdf