GM will be installing heat pump technology in their future electric vehicles. This will help recover low-level waste heat in meaningful ways and reduce emissions.
Last Monday, GM announced that their upcoming electric vehicles will now include a heat pump technology that will recover low-level waste heat in ways that can add up in meaningful ways — giving them faster acceleration, faster charging, and longer range.
A heat pump doesn't generate heat. It instead transfers thermal energy from one place to another. There are already automakers that use heat pump technology, such as Tesla and Toyota. However, GM's heat pump doesn't just adjust the cabin temperature like how most heat pumps function; GM also manages the temperature of the drive motors, power electronics, and battery.
According to Forbes, an example on how GM uses the heat pump is for the "watts to freedom" that enables the maximum acceleration on the new Hummer EV. The electric motors' magnets must be cooled to extract optimum power from them. However, the battery may need to be warmed up beyond ambient temperature to reach the optimal temperature for maximum output. The Ultium motors are oil-cooled, with the oil passing through a heat exchanger that converts oil to the refrigerant.
According to GM's Chief Electrification Officer Tim Grewe, the Ultium platform was envisioned from the beginning as a building block strategy that allows small consumer electric vehicles such as Chevy Blazer EV (and Equinox EV) on large commercial trucks. GM claims it can help speed up charging and acceleration and extend range.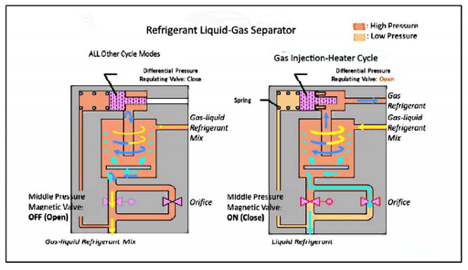 The Ultium platform strategy differs from the thermal system of the existing Bolt EV, according to the executives, because it uses a heat-pump approach to consolidate and simplify the rest of the system.
Lawrence Ziehr, the project manager for the said system confirmed that the heat pump doesn't add mass and even compared it with larger Ultium models with the Bolt EV. "It's just a smarter way of connecting the systems." He stated.
The heat pump technology is already part of the Hummer EV car delivered today and the upcoming Cadillac Lyriq.