The Lucid Air Dream Edition ranges up to 520 miles per charge compared to any electric vehicle by a wide margin. However, 39 of those miles are sacrificed if a buyer opts for the larger, 21-inch wheels, resulting in a 7.5% range penalty, according to Bloomberg.

An escalating dilemma between physics and aesthetics among consumers and automakers has existed wherein the latter mostly wins as they choose bigger and stickier wheels for the looks over performance and efficiency.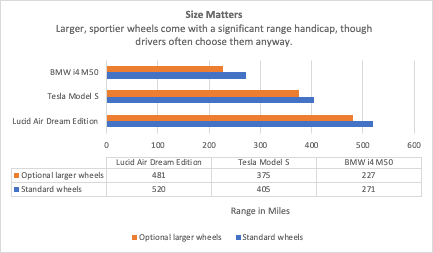 In contradiction, Richard Scheer, exterior design director at Chevrolet, explained that range is everything regarding electric vehicles. "Everything is about range, so the slipperier you make it, that's great," says Richard Scheer, "But even in the EV world, people will trade off range for cool wheels."
Compared to the aesthetically preferred tires, an ultra-efficient tire must be skinny to block less air; have a small circumference to take less energy in turning; a compound that does not stick much, and have a hub cap to reduce air turbulence inside the wheel. But in consideration of the tire preference of most consumers after the appearance, automakers often sacrifice mileage and efficiency for every bit of size increase.
"You get into a complicated balance," said David Van Emburg, executive vice president of automotive original equipment global sales at Michelin. In fact, even a bit of increase in tire size can lower resistance as the car's weight spreads more widely; however, supersizing introduces a greater problem as its increased mass needs more energy to get going.
For instance, the BMW i4 M50 has standard 19-inch performance tires and can go 271 miles on a full charge. But it only manages 227 miles on high-performance 20-inch wheels, a 16% shortcoming.
Ford also admits that its F-150 Lightning could go a few more miles on rubber less suitable for off-road driving and that its Mustang Mach-E could cover a little more miles on tires that did not corner as well.
"Those big tread patterns squabble — they move around — and don't return all the energy you give them," says Chris Allard, chief engineer of Ford's underbody systems engineering. "You're making a conscious trade-off there."
As explained by Bloomberg, consumers prefer the "no-compromise" approach for the time being, especially as the EV market shifts from early adopters to the mass market. They typically choose the larger wheels from Lucid models, which can reduce the time between charges by up to 9%. On the other hand, four out of five of Hyundai's new Ioniq 5 customers choose the larger wheel. Corresponding, 40% of people getting into Volkswagen's ID4 opt for the 20-inch rims over the 19-inch ones. Only one-third of Polestar customers choose the regular 19-inch wheel with a summer tire, while the remaining customers select the 20-inch wheel, which costs them about 5% of the vehicle's range.
"It's kind of a look," says Polestar engineer Glenn Parker. "We've seen tires get bigger and bigger and bigger over the years. … And as a performance brand you can't just say 'What's the most efficient tire we can put on the car?'"
With that being said, Ford does not plan to sacrifice mileage and efficiency with its Lightning F-150 pickup truck, so it will use a standard rig with rugged tires. As explained by Ford's Allard, paying attention to the tire monitoring gauge and keeping tires at the right pressure is very significant for tire longevity.
Big Tire is looking at various strategies to make larger and stickier tires to increase its capability. Impressively, Michelin improved tire efficiency by 20% in the past 20 years without compromising stickiness and performance, as per Emburg.
With that being said, other automakers iterate as well. In fact, Polestar 3 wheel's new version will have less open space resulting in an extra two or three miles of range, even on the 20-inch wheels.