EVs surpass mobile phones and personal computers as the primary source of demand for cobalt.
For the first time last year, electric vehicles surpassed smartphones and personal computers as the primary source of demand for cobalt, a rare metal used in lithium-ion batteries.
With the rapid growth of the lithium-ion battery market used in electric vehicles, the cobalt market has a demand growth of 22% in 2021.
The EV market accounts for 59,000 tonnes of cobalt in 2021, 34% of the total demand. It overtakes the 26,000 tonnes used in mobile phones and 16,000 tonnes in laptops and tablets. –according to FT.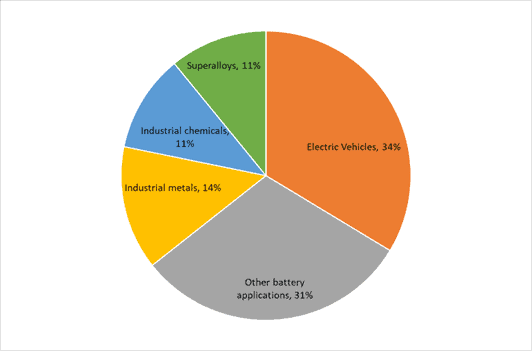 Data from Cobalt Institute
However, the increasing demand for raw materials has raised some concerns for automakers in securing enough raw materials.
During the FT Future of the Car Summit, Tesla CEO Elon Musk said that they are open to the idea of acquiring a miner. "We will address whatever the limitations are on accelerating the world's transition to sustainable energy. It's not that we wish to buy mining companies, but if that's the only way to accelerate the transition, then we will do that."
David Brocas, Chairman of the Cobalt Institute's Executive Committee, said that "Securing access to raw materials is crucial if the world is to achieve the sustainable and just transition to a greener future. Cobalt's role in batteries and recycling makes it one of the critical materials of a climate-neutral future."
President of the Cobalt Institute Adam McCarthy added, "As electric vehicles continue to revolutionize green and sustainable mobility, cobalt-containing batteries are a technology of choice for many car manufacturers in Europe, North America, and China."
Currently, the Democratic Republic of Congo is the largest source of cobalt supply, accounting for 74% of the global mine supply. With 72% of total primary production, China is the largest cobalt refiner globally.
The report also states that the cobalt's mined supply will substantially increase in 2022 and 2023 and will start to fall in 2024.
"In 2024, the market is forecast to shift back into a deficit which will widen into the medium term as supply growth fails to keep pace with demand. From 2024-26, supply growth will average 8% per year, compared to more than 12% for demand." The report stated.