Germany's Plug-in EV sales jumped to 24.3%.
Germany has the most prominent auto market in Europe, accounting for 24.3% of the electric vehicle market, up to 22.1% YoY. The European car industry dropped by over 21% YoY and over 40% compared to the pre-pandemic season.
According to data gathered by Cleantechnica, In April, Battery Electric Vehicles (BEVs) had a 12.3% market share, and Plugin Hybrids (PHEVs) had 12.0%, respectively. In April 2021, results for BEVs and PHEVs were 10.4% and 11.8%, respectively.
With the total auto market declining last year, all powertrains (including plugins) decreased YoY. Combustion-only powertrains had the most significant drop in volume, with diesel at almost 30% YoY and petrol at nearly 28%.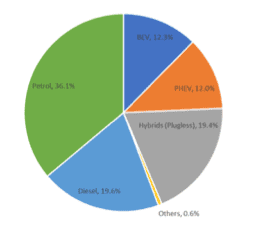 Despite their marginal growth in share, even combined plugins were down in volume, 13.6% YoY.
Total sales for BEVs are 22,175 and 21,697 for PHEVs. Hybrid Vehicles make up 19.4% of the German auto market sale, with 35,089. Additionally, Diesel and Petrol cars have a total of 100,407.
GERMANY'S TOP BEV MODELS
Here are the BEVs sold in the German auto Market for April: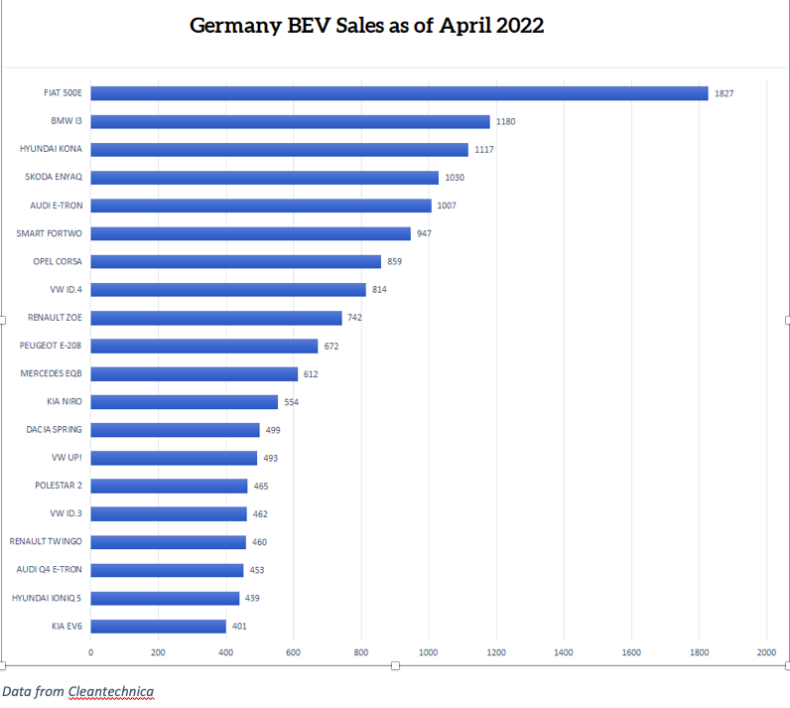 EV automaker giant, Tesla, has not scheduled any deliveries yet for April, giving other automakers a chance to shine. It can be seen that Fiat500e made it to the top of the list with a total sale of 1,827 BEVS.
Some models saw significant changes in April, such as the Mercedes EQE (322 units) and the MG ZS (381 units). Registers for the Renault Zoe, however, dropped to 742 units.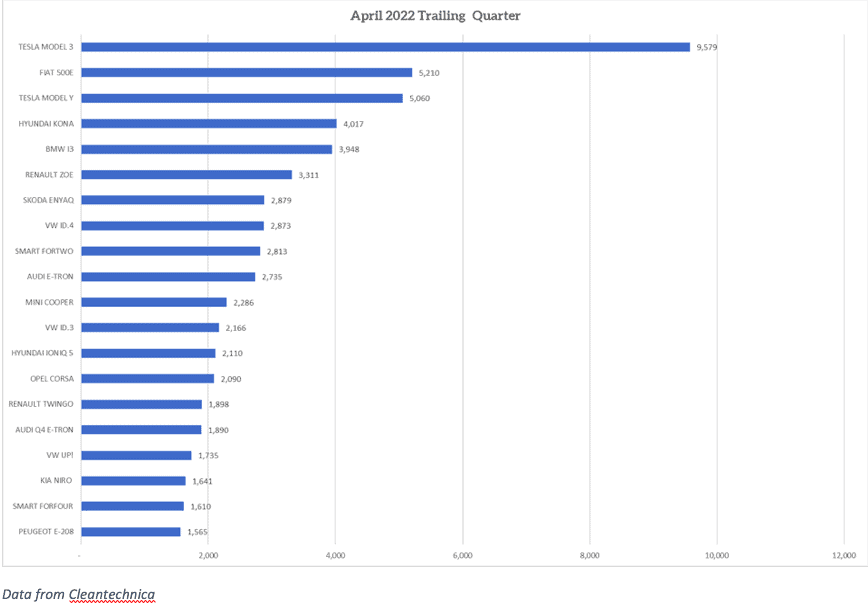 During the previous quarter, Tesla dominated the market with its Model 3 and Y, which made the top of the list with 9,579 for Model 3 and 5,060 for Model Y. Fiat 500E was already on the second of the list last quarter with 5,210 units of BEVs sold.
Even though there are significant increases in some EV sales, such as the Mercedes EQB from 295 previously, it has registrations of 1,405 from February to April. However, Renault's group Dacia Spring and Zoe dropped in the previous quarter.
GERMANY'S TOP BEV BRANDS
Volkswagen Group made the top of the list with a total sale of 16,333 units. The VW group includes brands such as ŠKODA, SEAT, CUPRA, Audi etc.
Tesla, however, is remarkable at 2nd on the list with 14,639 units sold for the previous trailing quarter.
VW Group's share of the German BEV market has dropped from over 26% in the final quarter of 2021 to just under 20% in the most recent trailing quarter. Over the same period, Tesla has gained from 12% to nearly 18%.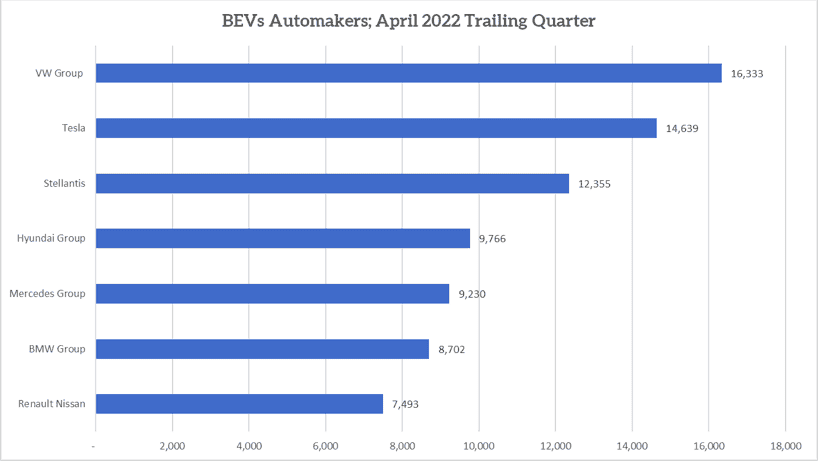 Overall, Germany is making good progress in increasing its share of plugin EVs on the road, given the 24.3% plugin share for BEVs in the German auto market. However, some issues are still to be addressed for both plugin and autos, such as supply material cost increases, energy input cost increases and constraints. This results in an economic impact that affects the supply and consumer demand.
Whatever the issue is, it's clear that more needs to be done to encourage people to make the switch to electric vehicles. With rising concerns about climate change and air pollution, we must find ways to get more people to drive EVs.